A group of human trafficking survivors from across Cambodia came together for a three-day 'Voices of Human Trafficking Survivors Forum' between the 25th-27th September to express their expert opinions on key anti-trafficking issues, evaluate services for survivors and voice their recommendations on anti-trafficking programs and policy. The forum was held in Siem Reap by USAID's Cambodia Countering Trafficking-in-Persons program implemented by Winrock International, and was facilitated by five of the program's partners.
Two days of indepth group discussion was followed by a final day for the survivors to present their recommendations directly to policymakers and practitioners. The survivors delivered 37 recommendations on prevention, protection and prosecution to representatives from NGOs, donors and the Cambodian government.
The recommendations presented by the survivors included offering skills training to survivors that meet their needs, requesting that police and courts don't discriminate against and use respectful language with survivors and increasing job opportunities in Cambodia to prevent trafficking.
For the full list of recommendations in English and Khmer, visit https://ctipcambodia.wordpress.com/re/. Addressing the survivors group on the final day of the forum, USAID Cambodia Mission Director Polly Dunford said, 'The feedback that we have heard from all of you today…will be extremely useful to us as we begin to design our future program that we hope will be even more effective in helping and assisting you and preventing this from happening in the future." "I accept all the challenges proposed by the survivors at the forum today.
This forum on the topic of voices of human trafficking survivors is meant to stop trafficking", said H.E. Chou Bun Eng, Secretary of State and Permanent Vice Chair of the National Committee for Counter Trafficking. The forum served as an important platform for survivors to voice their opinions on existing services. This is significant as survivors often do not feel free to provide candid feedback to programs due to fear of being excluded from further support.
The recommendations made by the survivors will ensure programs are meeting the real needs of this group. Importantly, the forum has also facilitated the formation of a survivors' network that will continue advocacy at a national level. It is expected that the network will be formalized in the future based on the needs of this leading survivors group. Over a four-year period, the project will provide 2,000 trafficking survivors with support services, and will strengthen survivor protection and services through training of 2,000 service providers.
With the support of USAID's Cambodia Countering Trafficking-in-Persons (CTIP) program carried out in partnership with Winrock International, the Cambodian Center for the Protection of Children's Rights (CCPCR) has reintegrated 15 survivors of labor trafficking and exploitation back to their communities in August. The survivors had been repatriated from Malaysia by the International Organization for Migration (IOM).
The survivors came from poor families and were cheated by brokers to work in Malaysia illegally on the promise of good jobs. While in Malaysia they were physically abused and forced to work up to 16 hours a day with little pay, sleep or food. The Malaysian police arrested them for working illegally and imprisoned them for months before the survivors were returned to Cambodia through the assistance of IOM and other stakeholders.
Back in Cambodia, the survivors were referred to the program, which has helped them reintegrate back into their villages. The survivors have been warmly welcomed back to their communities by their parents, relatives and neighbors. Their families and friends had lost hope for the survivors' return after having no contact with them for so long.
One of the survivors expressed his commitment not to repeat unsafe migration and plans to share his experience with his friends and relatives in order to stop unsafe migration. "Do not migrate unsafely to Malaysia like I did, it was difficult to there," he said. "You could be mistreated by your employer, nothave enough sleep or food to eat and end up in jail like me."
As well as providing travel arrangements, counseling and family assessments, CCPCR is delivering training, business assistance or job placements to the survivors. Through this they will be able to earn a stable income and reduce their vulnerability to labor trafficking.
The survivors' families thanked IOM and the program for returning their family members home safely and expressed their regret at allowing them to work abroad through unknown brokers.
One village chief who had welcomed some of the returnees said that many people from his village have gone to work abroad because so many of them do not have a proper job or agricultural land.
"Reintegration support is very important because most of survivors were away from home for so long," said CCPCR's Reintegration Officer. "Importantly, we will find them jobs to avoid repeated unsafe migration and a better situation for their family."
Over a four-year period, the project will provide 2,000 trafficking survivors with support services, and will strengthen survivor protection and services through training of 2,000 service providers. The program aims to help vulnerable people address the economic root causes of trafficking through diversified, climate-resilient livelihood options.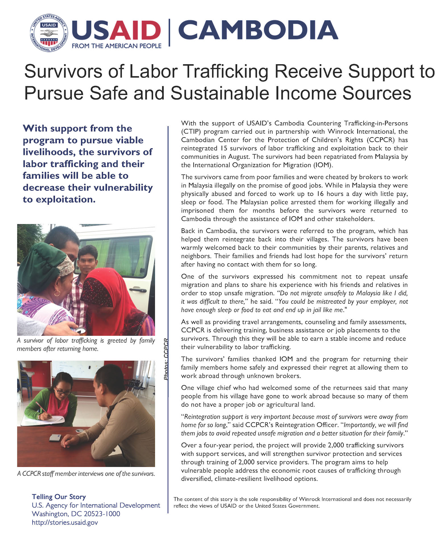 On 4th November, 33 Cambodian, including 25 (14 females) Trafficked children were repatriated from long An province, Vietnam country by Cambodia Center for the Protection of Children's Right (CCPCR), a partner of USAID's Cambodia Countering Trafficking in Persons Program (CTIP) implemented by Winrock International. They were referred by Vietnam authority to Cambodian authorities through CCPCR's transit center.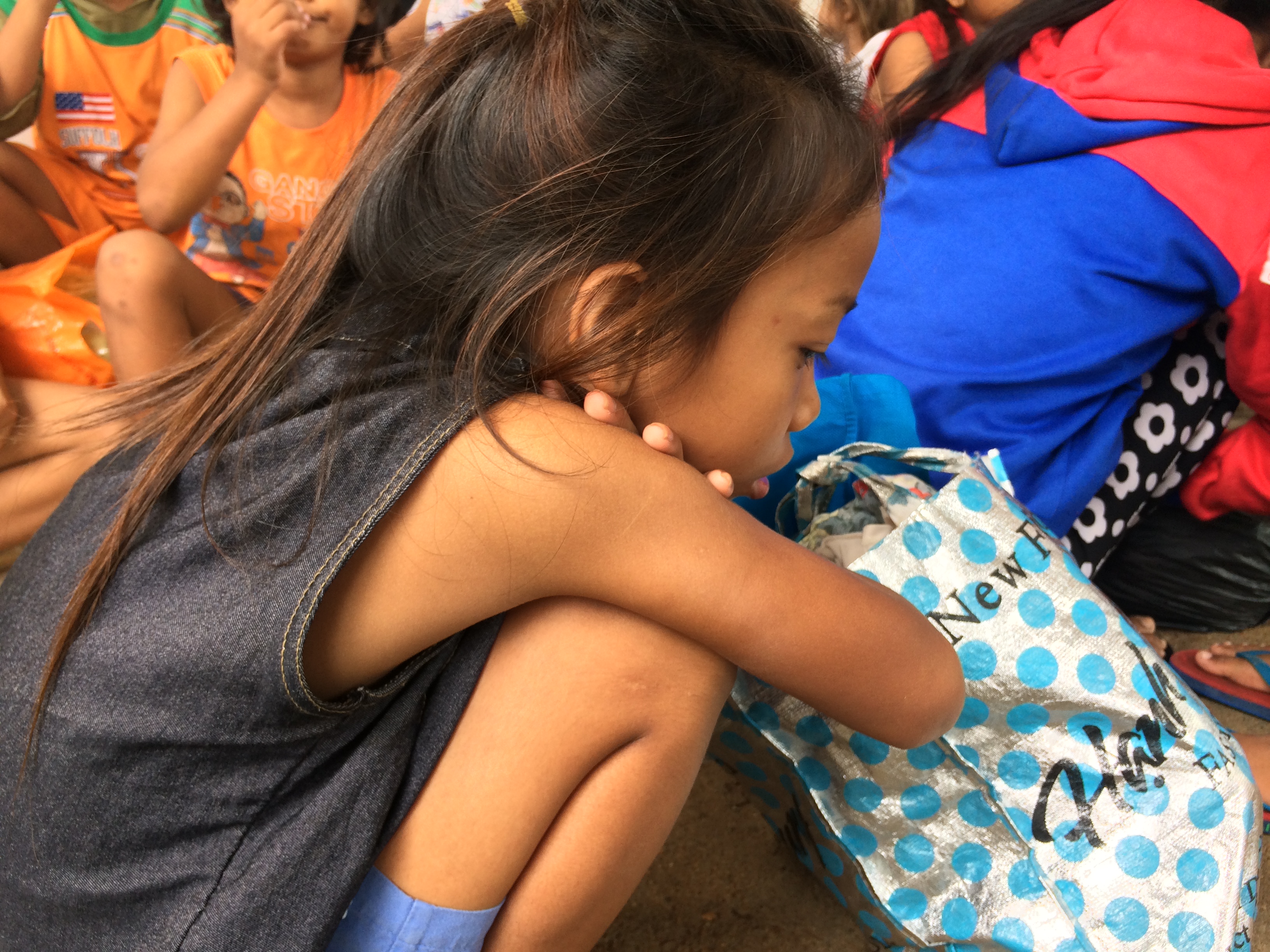 CCPCR Coordinated with service for this repatriation, such as accommodation, counseling, foods and Interview with the screening form. Some victims got supported on traveling back home.
After interviewed, 25 (14f) children were identified as victims of exploitation of labor trafficking because they were sent to beg and sell lottery by their parents, relatives and brokers and other 8 adults were victims of migrant abuse.
All of them complained about poor situation in their family, no money for study, and have debt, that why they decided to go to earn in Vietnam.
One child said her parents have debt, she didn't have money to buy school material, so she was sent to sell lottery and beg for money with other neighbors."It was not so difficult and got bitten, but I was scared with walking and sleeping on the street. I had to escape when I saw the police", She added.
In form of illegal migrant, all of them were arrested and detained by Vietnamese authorities about two months before referred to Cambodia. However after process the document of repatriation and screening form, CCPCR reintegrated them to community to live with their family.
One other child said, this is the first time for him to go there and he was very afraid when the police arrested him and he never think he can back home safety."I want to pursue my study" He continued. He will not go there again, even his parents force him, he will tell them about the risky and difficult of living there.
For violation against human trafficking and child trafficking in Cambodia, CCPCR with supported of partner of USAID's Cambodia Countering Trafficking-in-Person Program (CTIP) implemented by Winrock International, is working closely with victims and victims' families, especially the vulnerable people to protect and prevent from the issue.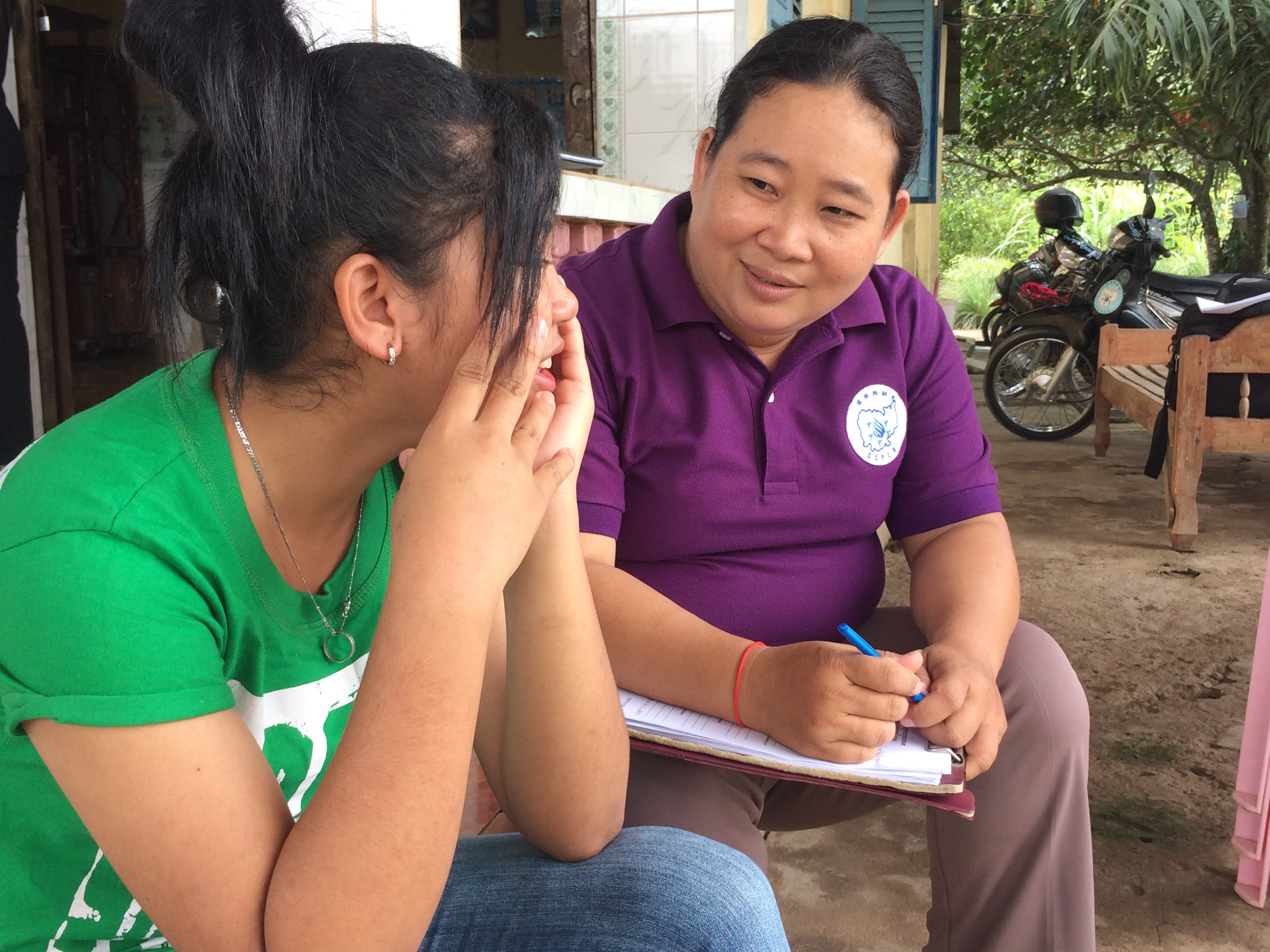 Precisely, CCPCR provided some basic need to victims and victims' families and grant for running small business at home to make sure that the family have sustainable income and their children get a chance to study. Moreover, CCPCR also disseminate them with awareness raising, in order to spread the information about risky of migration, human trafficking, and set up SHGs and AC to improve their living condition.
However, for these 33 cases of repatriation, CCPCR will provide them some service, such as counseling, enroll them to public school with school material to pursue their study and adults will be provided the skill training and grant for small business at home in order to avoid from repeat migration and human trafficking.
June 2016, Phnom Penh – Four months after being trafficked to Thai fishing boats where they were forced to work in exploitative conditions, 54 Cambodian men were, at last, rescued and returned home to Cambodia. Their safe return was the result of strong collaboration, which was led by the International Organization for Migration (IOM) with the involvement of the Cambodian government and key implementing partners of USAID's Cambodia Countering Trafficking-in-Persons program (CTIP), including International Justice Mission (IJM), Cambodian Center for the Protection of Children's Rights (CCPCR), Legal Support for Children and Women (LSCW) and Cambodian Human Rights and Development Association (ADHOC).
CTIP partner IJM provided technical assistance to the Cambodian anti-trafficking police during their interview of the survivors. In the interviews, the men described long working hours, poor living quarters, meagre and intermittent pay, and confiscation of their official documents. "We are glad to have been a part of bringing these men home and ensuring they are safe," said IJM Cambodia Director Peter Williams.
CTIP program implementer Winrock International its partner CCPCR accompanied nine of the men back to their home villages, where they were warmly and joyfully welcomed by their families and local authorities. The immediate needs of the men and their families were assessed, and the program will continue to provide services and support to the survivors to prevent re-trafficking. "Thank you so much to NGOs and government officers that assisted our family," said a family member of one of the survivors. "CTIP really could not do it alone, we need good cooperation, support and contribution from all," said CTIP Protection and Reintegration Specialist Un Vuthy.
"I am so excited to see them come back home" – One repatriated man's family member.
CTIP has been working on similar cases since 2011, supporting 313 fishermen through legal aid, repatriation assistance, reintegration support and social services. The program also provided legal aid for the case against Giant Ocean, a recruitment agency who cheated more than 1,000 Cambodians to work in exploitative conditions on fishing boats around the world, and produced a video on the case, Where is the Horizon?,
I am determined to stop unsafe migration to other countries because the bad experience I had…taught me a lot," said one of the survivors. Another warned Cambodians that, "Before you migrate to another country you must have complete documents and all the information to protect yourself from exploitation and labor trafficking."
https://ctipcambodia.wordpress.com/collaborative-effort-leads-to-successful-repatriation-of-54-cambodian-men-trafficked-to-fishing-boats/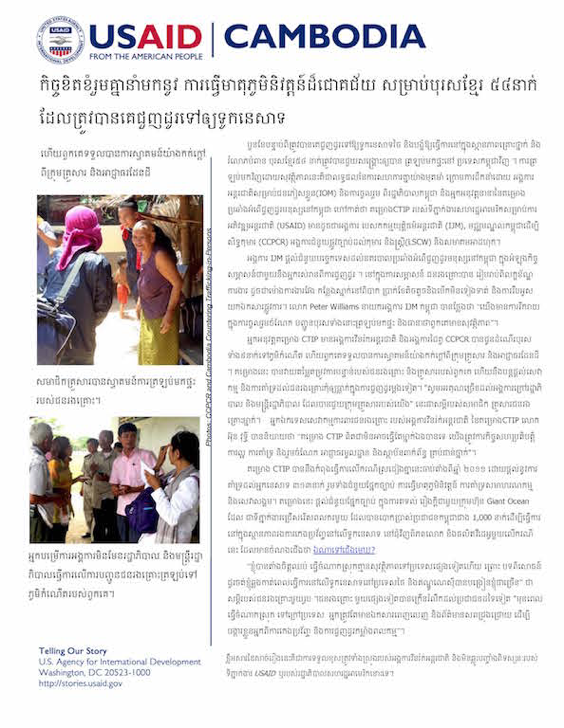 33 Cambodians, including 22 trafficked children, were repatriated from Vietnam by the Cambodian Center for the Protection of Children's Rights (CCPCR), a partner of USAID's Cambodia Countering Trafficking in Persons (CTIP) on the 8th July. The children had been forced to beg on the streets of Vietnam by their traffickers, sleeping on the streets without enough food, and were beaten if they did not earn enough money or hand over their earnings.
CTIP is reintegrating these children back into their communities in collaboration with local authorities and NGOs by conducting family assessments and follow-up visits to ensure the children are safe and cared for.
With the support of CTIP, the 10 school-aged children will be able to return to school with books, uniforms and bicycles after the school holidays. The other children, still too young to begin school, will be supported in their families until they are ready to begin. With CTIP support, these children have a second chance for education.
22 Cambodian children trafficked and forced to beg on the streets of Vietnam have a second chance to pursue their education and live safe lives in their communities.
Importantly, CTIP will work with the children's families by providing basic short-term provisions and assisting them with job placements and vocational trainings to ensure a stable source of income for the family. "I left school because my family is very poor, I wanted to have a bicycle to take my younger sister with me to go to school but my parents have no money and I could not afford it," said one girl studying in Grade three. Addressing these underlying issues keeps the children in school in the long-term and decreases the vulnerability of children and other family members from migrating unsafely and being trafficked or re-trafficked in the future.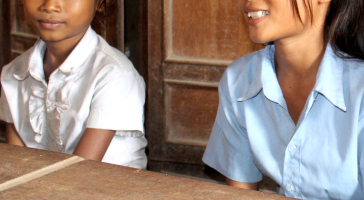 Winrock International Protection and Reintegration Specialist Un Vuthy visited seven of the children in their communities where they have returned to school. He met with the school directors who asked that teachers are trained on trafficking, child labor and migration to bring prevention directly to the classroom. "Teachers are like second parents of children, especially for reintegrated children who have returned to school," said Mr. Un.
So far in 2016 CTIP has repatriated 32 children trafficked to Vietnam. Over the four-year program CTIP aims to provide support services to 2,000 trafficking survivors and deliver alternative livelihood assistance to 32,000 individuals vulnerable to trafficking.