Mrs. Vorn is a vulnerable people living in Svay Prohuot village, Krol Khor commune, Svay Chrom district, Svay Rieng province. In her community, she complained about no proper job opportunity apart from growing rice and she stated about her difficulty of making enough money to support her family.
"Before my husband and I used to raise chicken without proper skill and also have business as mobile food selling, but those business not get good profit and sustainable income to support my family and children's education",said Mrs. Vorn.
By seeing the vulnerability of people living there, CCPCR a partner of USAID's CTIP funded through Winrock International, selected Mrs. Vorn to be a member of community Saving Group and selected her as a model farmer.
Mrs. Vorn and other members of community Saving Group got supported by CTIP to get training on chicken raising skill, financial management skill, business management skill and also human trafficking issues.
After got trained by CTIP, Mrs. Vorn has business grant supported to raise chicken and sell refreshment food and drink at home to increase income. She sell very well everyday with suitable income.
Mrs. Vorn said, "Before my family was so poor and after CCPCR supported me to have business at home, I can earn about 50 000 Riels ($12.5 US) per day. It helps my family improving to better livelihood."
This is only the small part of her income, that is not included with the benefit from chicken raising, she continued. With her business, she can earn money for daily food, and for chicken feed and vaccine, so she will gain much income when she sell the chicken.
Mrs. Vorn said, her family's situation would not better as today if she did not get help by CTIP.
Even her family earn enough money to support family, she still commits to broaden her business with more chicks and pigs raising to increase income and avoid from risky migration.
SI is a case of migration abuse without document to work in Malaysia. He is an orphan, 19 years old, who lives with his poor grandmother in a village of Kampong Chhnang province after his parents was divorced.
When his grandma could not afford to support family and his study, SI decided to migrate to work in Malaysia with his relative since he was 15 years old. He worked there without permit card and his passport was withdrawn by his boss, so he was arrested to detain in prison.
"I was nearly died in the jail, because I can't sleep well and have no enough food to eat. Anyway, the police hit me if they don't be happy", said SI.
He never know information about risky of migration, that why he have been explored and abused in broad. He felt hopeless, when he talked about his experience, so he did not ever want to remind it.
He said, "I'm afraid of migration without information and documentation."
When he was 17 years old, he was rescued and returned back to his homeland, then he was referred to get service supported by CCPCR, a partner of USAID's CTIP, funded through Winrock International.
CCPCR supported him to learn Mechanism skill (Motor Repair) in Modolkiri province and a small business at home to his wife after he got married to live there.
He said "thank to CCPCR for committing to assist and support emotional, economical and skill to me and my family".
He never expected that his family has a better condition as today, he continued. He has a chance to learn skill responding to his dream to run a Moto Repairing Shop by his own.
"I want to get this skill since I was young, but my family was poor could not afford me to learn it", SI said.
Currently, he can gain much knowledge and repair some motorbike while his wife is earning from selling goods and beverage at home from 40 000 to 50 000 Riels per day to support his family and his daily food.
Chet is a former child migration abuse to sell lottery ticket and beg for money in Vietnam. He is 9 years old and he is the elder brother among 3 sibling in his family.
Living near the border of Vietnam, Chet also did not study regularly. He was taken with his parents to sell lottery tickets every two or three months and he was taken back to study, after his parents made enough money to pay debts.
Sometime, Chet and his siblings were left at home with grandma, when their parents migrated across the border."I was separated from children who were attending school in Cambodia, when my husband and I went to Vietnam." Chet's mother said in sad mode with tear.
She continued that they faced a lot of difficulty during migration, because it [the language] was not in Khmer and especially it was difficult when it rained, but they had no choice of job at home.
In April, 2018, Chet and his mother were arrested and brought back to Cambodia. They were referred by Department of Social Affair to get CCPCR's service supported. With fund supported by USAID's CTIP through Winrock International, CCPCR conducted assessment to support on education to Chet and provide him with clothes and school material.
In order to make sure their family enable with sustainable income, CCPCR also provided the family with small business (Selling cane juice, fast food, drinks, Goods and ingredient) at home. They were supported with financial and small business literacy trained by CCPCR before running business.
Chet's mother said,"Since I got supported from CCPCR, my children can go to school and I have business at home, I can stay to take care them."
She continued, She feels happy to get helped by CCPCR, her family condition is improving, because she can earn about 60 000 to 80 000 Riels (15$-20$) per day. And she committed to stop leaving home any more, she is willing to support her children to get higher education for good job in the future. Chet is given name.
Living in Angdong Por commune, Romeas Haek district, Svay Rieng province, Mrs. Sam Ol's family is one among many vulnerable people.
Mrs. Sam Ol said, after her husband passed away, her family's situation was so bad, because she was difficulty with no choice of job or proper income source in community.
Fortunately in 2016, she was selected to join with CCPCR's Agriculture Cooperation which formed under supported by USAID's CTIP, funded through WI. AC supported local vulnerable people with good condition on agricultural sector and helped them to better livelihoods and free from risky migration and human trafficking.
After joining with AC, Mrs. Sam Ol and her villagers have been supported a lot such as trained on chicken raising skill, farming, financial management, and small business. In addition, CCPCR's Agriculture Cooperative also support members to have capital to expand their grocery selling and livestock raising.
Mrs. Sam Ol, who got supported to have small business at home said, she felt happy to get supported to have such small Business and chicken raising. Now she is improving her life with income about 20,000 to 40,000 riels.
Nowadays, Mrs. Sam Ol has earned enough money for daily expend. She willing to save some money to broaden her business and building cage to raise more chicken at home.
But Chan's family is one among many vulnerable people in Krol Kor commune, at Svay Rieng province. Her family was a poor farmer and they did not earn a sustainable income to support lives even they work hard on growing rice.
Chan complained about her difficulty such as no enough food and no capital to grow rice in rainy season and she used to think of going abroad to earn money in neighbor country.
"In the past, I thought of going abroad to earn money because I had no other income source apart from growing rice. I used to raise chicken but it failed, as I did not have proper skill.", said Chan the beneficiary Rice Bank and Saving Groupin Roeusey Chour Cheung community .
In 2016, Chan has been selected to join CCPCR's Saving Group and also Rice Bank in Eusey Chhuor Khang Chheng which supported by USAID's Cambodia Countering Trafficking-in-Persons Program (CTIP) through Winrock International.
Chan has mentioned about the benefit of Saving Group and Rice Bank to her and her villagers. It provided them with low interest of rice loan in emergency needs and capital loan for broaden business or raising animal to improve income.
Being a member of Saving Group and Rice Bank, Chan and other villagers also got supported a lot to improve their livelihood such as trained on financial and small business management, on chicken raising and got baby chicken to raise.
Chan said, "When I raised chicken without proper skill, I could sell only 15 kilograms of chicken per year. Now that I have chicken-raising skill trained by CCPCR, I can earn over 10 million riels (about $2500) per year."
Chan added that, raising chicken made her life better and she also encouraged other vulnerable people to raise chicken at home like her instead of leaving home for work in abroad.
Survivor Got a Skill Training and Equipment Supported to have business at home
Srey Nech is a former victim from the poor family which used to migrant when she was 10. Living in old cottage with a leaking roof in Kampong Ro near the border of Vietnam, Srey Nech quitted school at grad 9 to find job as garment worker to support her family and 3 sibling because her parents are alliterated, have no sustainable job or land to farm and her mother also live with illness.
Even thought, Srey Nech was working in young age to support her family but the condition still bad and her mother still brought her brother and sister to beg for money in Vietnam.
Living and Begging on the streets in Vietnam was very dangerous and difficulty, especially eating and bathing. They had to escape from gangster and Vietnam authorities. Unfortunately, Srey Nech's mother and siblings were deported back to Cambodia through CCPCR's Bavet Transit Center.
Through the need assessment from CCPRC's social worker with Srey Nech and family, When Srey Nech was 17, she was supported to study hair dressing as vocation skill training which under supported of USAID – CTIP program through Winrock International. She was received accommodation and food while she was studying.
Srey Nech said, " I am so happy that I my dream came true, with supported on Hair dressing and Salon skill by CCPCR, because I love this skill since I was a child, even at the time I worked as garment worker I was asked to do it (by my co-workers)."
Srey Nech discovered her talent for the favorite skill, working hard and learning quickly. After six months, she completed her course and received startup kits from CCPCR to run a small business at home.
Now, Srey Nech is 19 years old and she can make money from 30000 Riels to 100 000Riel per-day to support her family. Srey Nech's mother said, "Before her children had no chance to study regularly because I brought them to beg for money in Vietnam. But when my first daughter has skill and business at home, my family's condition is better and I stop leaving to beg, so my children can go to school regularly with material supported by CCPCR as well."
Srey Nech has a plan to broaden her business on selling cosmetics and providing dressing service for wedding, while her parents want to sell goods and grocery, and raise chicken at home to make much more money to build a house.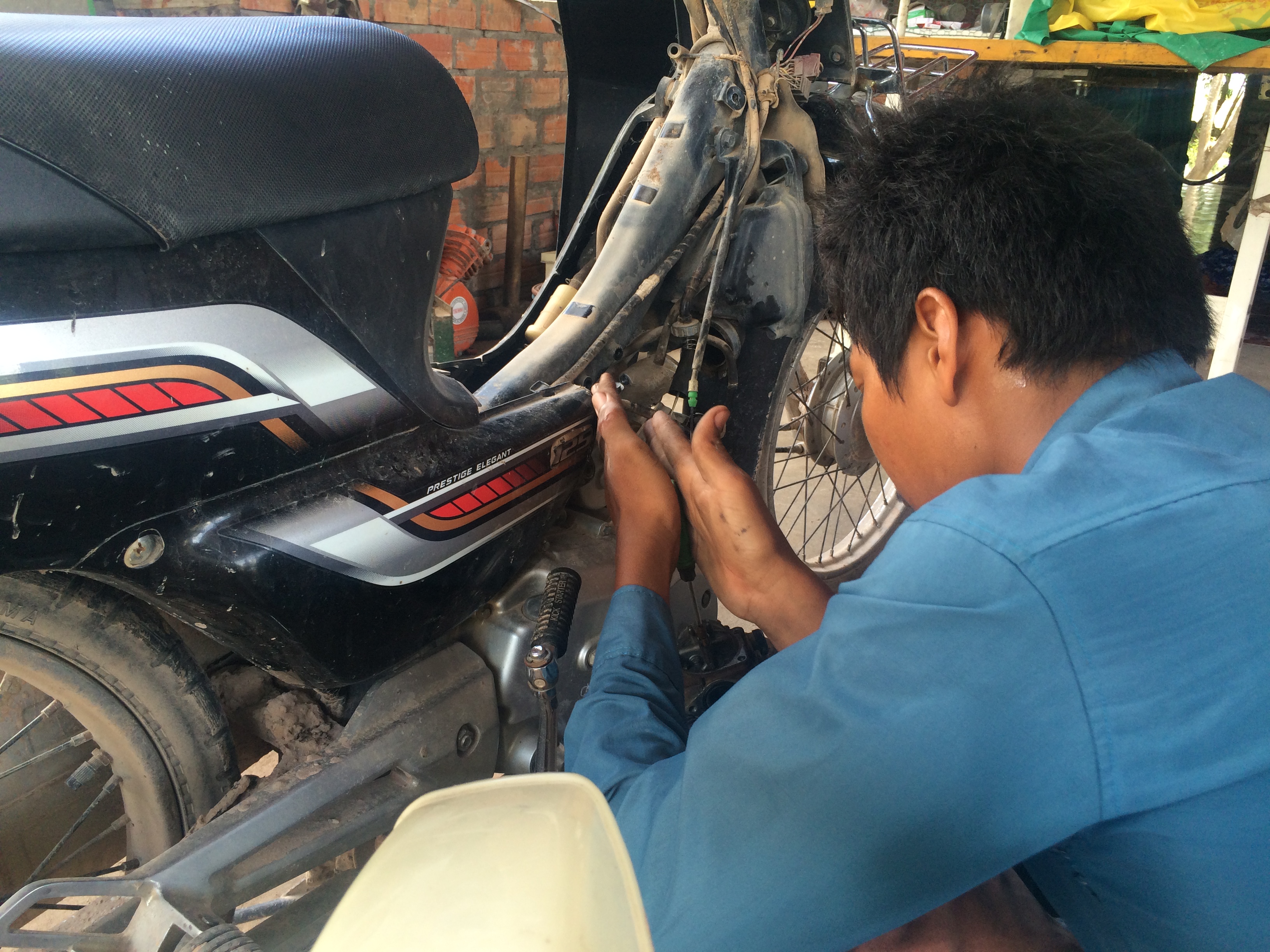 After his father left the family when he was only 12 years old, Dara* quit school to find work to provide food for his mother and three siblings. With no opportunities for earning money, Dara and his family travelled to beg on the streets of Vietnam. Life in Vietnam was difficult for Dara and his family, who barely made enough to survive begging and selling lottery tickets. Living on the streets was dangerous and eventually the family was deported back to Cambodia by Vietnamese authorities. Back in Cambodia, Dara's mother had no money for school and the family got into debt.
When Dara was 19, local authorities referred him to the Cambodian Center for the Protection of Children's Rights (CCPCR), a partner of USAID's Cambodia Countering Trafficking-in-Persons (CTIP) program implemented by Winrock International. CCPCR sponsored Dara to learn mechanics, providing accommodation and counselling while he studied. Dara discovered his talent for the subject, working hard and learning quickly. After one year, he completed his course and received equipment from CCPCR to start a small business.
My life was changed through the skills training, accommodation and equipment provided by CCPCR. I never expected that my life would flourish like today. Before I had so many difficulties, my home was so old with a leaking roof and I had nothing to eat. But now I can earn money every day," said Dara, now 23-years-old. Dara's skills are improving, and he can now support his family and avoid re-migration, earning $5 a day. "I dream to extend my business…and I will teach my skills to other youth who face the same difficulties as me".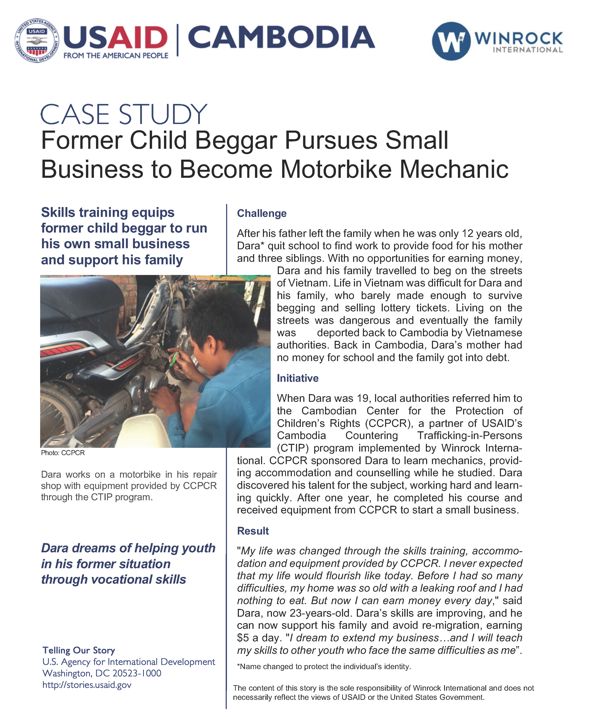 From the 30th of September to the 3rd of October, 40 children representing 14 Child Clubs attended a two-day training coordinated by CCPCR and provided by IOM on human trafficking and safe migration. 20 children from Kampong Ro District attended the training at Kset Secondary School while 20 children from Chantrea District, attended the training at the Teng Mao Community Learning Centre.
They learned and discussed about the meaning of migration, the positive and negative effects of migration, the reasons why some people choose to migrate illegally and what are the challenges they can be faced with while doing so. Through case studies and group discussions, they were able to share and reflect about the roots causes of illegal migration such as the debt and poverty of the family, unemployment, or in some cases the power of attraction exerted by neighbors or friends who migrated and improved their material situation.
The trainers went through the documents and procedures required to migrate safely and legally such as having a passport and visa and passing through a checkpoint, confirm to the village chief the place, the job and the persons who are accompanying the migrant as well as having a work contract stipulating the salary and eventually the accommodation that they will receive once arrived in the country of migration. They also talked about the tricks used by smugglers and showed the children a video about human trafficking in the fishing industry. Finally, the children played games to help them remember key words.
"Education is important to find a good job and protect ourselves from child trafficking" said one of the girls of the Child Club of Choubpring village.
Founded in December 2014, this Child Club met four times with our Transit Coordinator in December 2014, January, February and April 2015 to learn about children's rights, child trafficking, child labor and child abuse. When we met its members on the 24th of September 2015, most of them still had vivid memories of what they had learned and were convinced of the importance of education as a means not only to have a good future with good jobs and high salaries but also to better protect themselves.
"What is child trafficking?", we asked them. One said it was the selling of children to another country to work but without any food or salary. Another asserted it was when someone gave some money to the parents to take their child to work in another country. This person would promise the parents their child would get the money from his work but would keep it for himself. Asked about child abuse they gave various answers such as "it's the selling of children to sex businesses", "it's when the children sell something in the market and don't go to school or when the children work at the factory" or "it's when the parents do not let their children go to school" or even "when only 1 of the 4 children in a family go to school".
We finally asked them about what they could do to help the children that were in these situations and got a genuine answer about "warning a girl that the candy she was given is a trap to harm her" or answers about reporting to stakeholders like commune council members, parents, schoolteachers or even just calling neighbors and warning other children. Empowered by the knowledge they got about their rights and the dangers they are facing, these children can then raise awareness about their rights and better protect themselves as well as other children in the village.
On the 14th of August, CCPCR visited some families in Teng Mao village, who benefit from the preventive activities of the organization. The visit started with Lek Chot, the leader of the Self-Help Group, which comprises the Rice Bank, the Cow Bank and the Saving Group of Teng Mao village.
"Since the beginning of the activities, I provide capacity building to all the members of the group to improve their knowledge and commitment. I conduct activities so that we can do things together. I want to help them to have sustainable incomes in the future. Sometimes people see what I am doing and are interested in learning. I explain to them the theory and combine it with real practice. It has helped reduce poverty within the group. The members also understand about the importance of education and stopped bringing their children to Vietnam."

Lek Chot
One year ago, Lek Chot was a farmer enrolled in CCPCR's trainings on rice production and agriculture. Today he is the leader of the Self-Help Group, which comprises a Rice bank from which its members can borrow rice at low costs, a Cow bank to provide families of human trafficking survivors with cows to increase their incomes and a Saving Group from which every member can borrow money and then repay monthly interests. The members of the Self Help Group also receive trainings on financial management, agriculture techniques, animal raising and are given the opportunity to apply for business grants to start their own small business. Lek Chot has been very successful so far and leads by example. He does not need to buy vegetables from the market anymore since he is growing his own vegetables – dragon fruits, cucumbers, long beans and other kinds of vegetables, without using any chemical pesticides. He also has a pig that is pregnant and a pond that he uses to raise fishes or store water.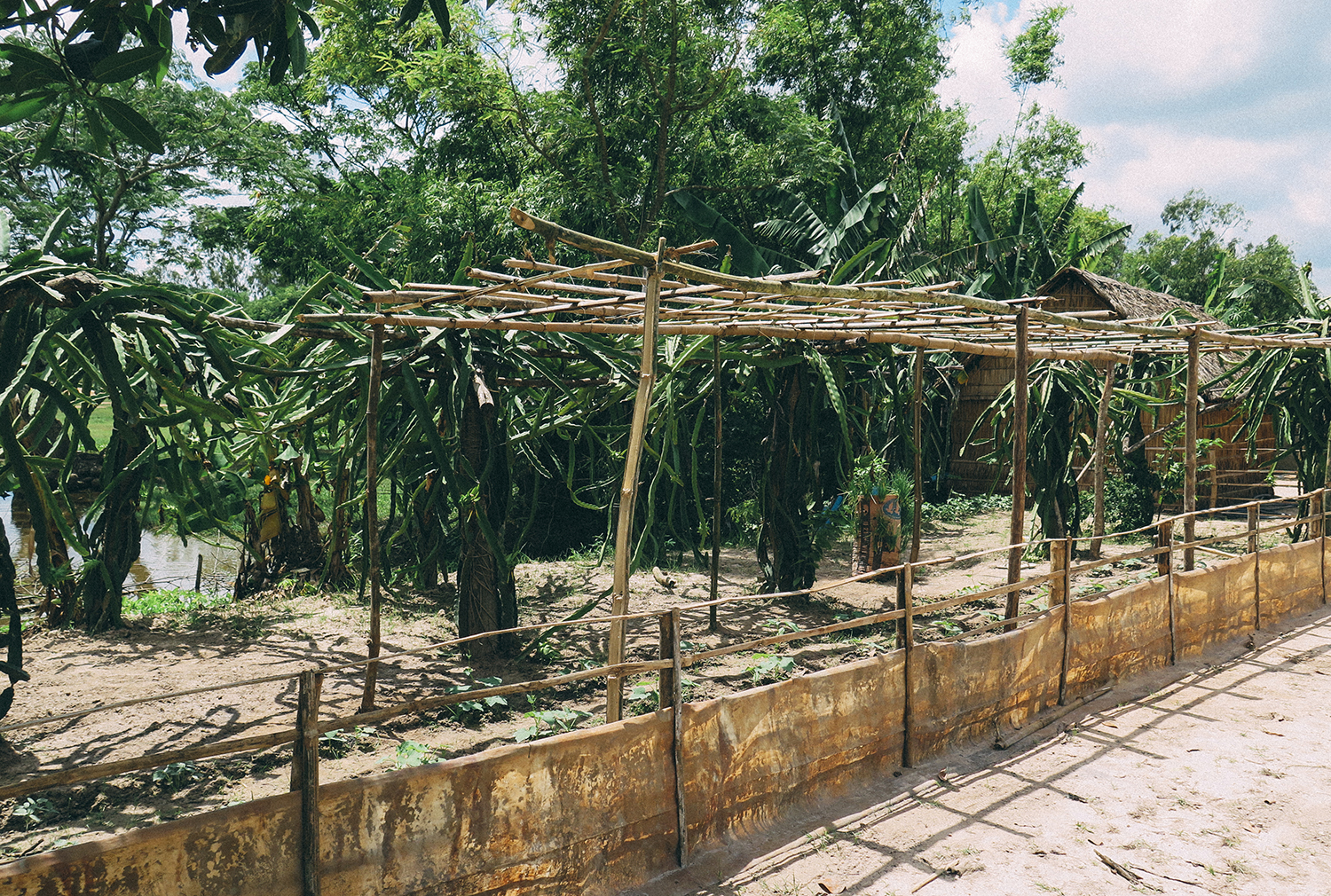 Lek Tchot's dragon fruit plantation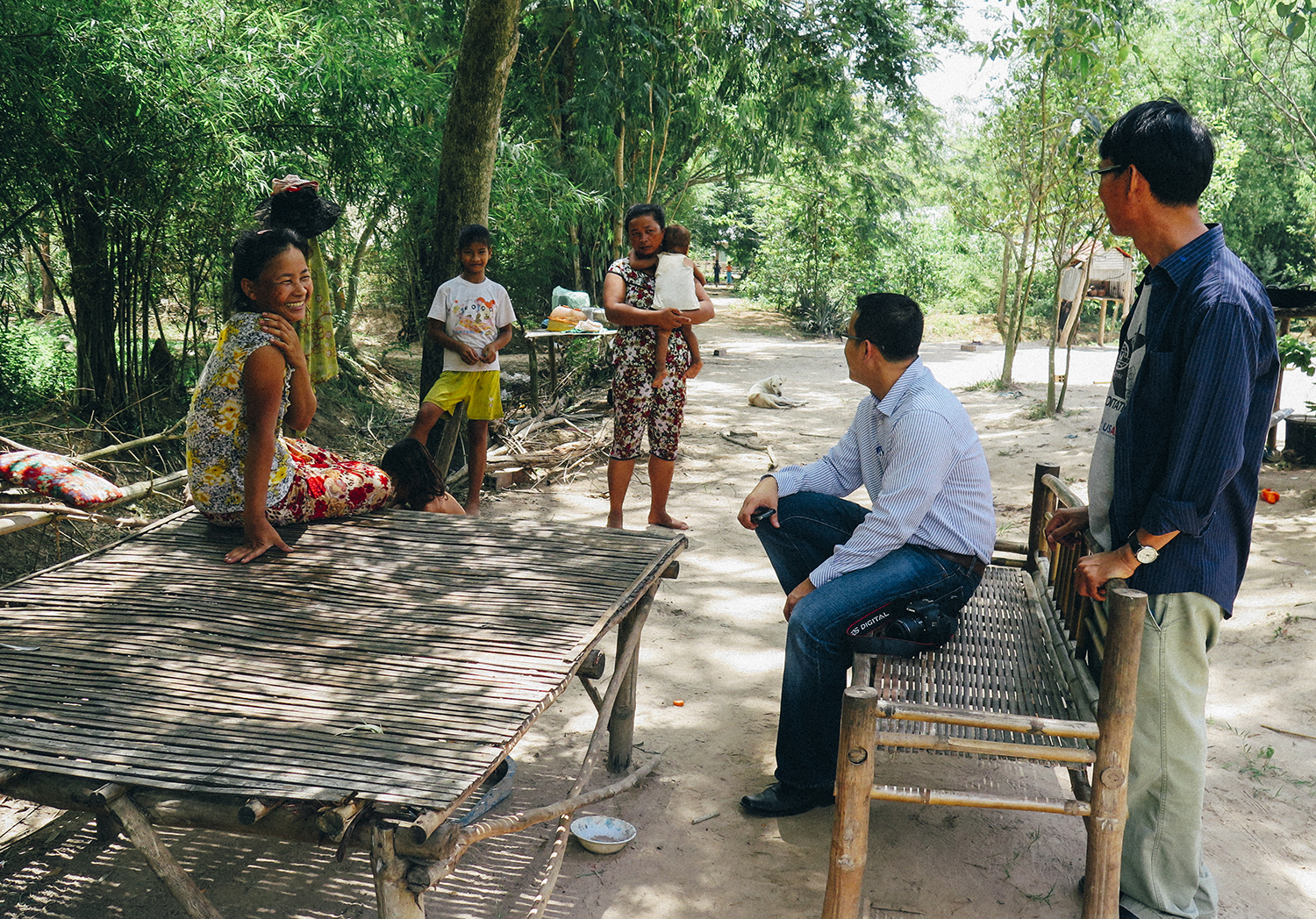 Our staff then met with two women of the village. One of them came back from Vietnam where she brought two of her five children to sell lottery. As of today she stopped going to Vietnam. She is raising pigs and has other incoming business plans. Her husband is working in construction building in Phnom Penh. He sends money to his family every month and comes to visit every two months. Another woman is crying while relating her story. She migrated to Vietnam to work some time ago and was detained by Vietnamese police officers for three months while her children were at home with nothing to eat. She thanked CCPCR for its support because she was able to borrow money from the Saving group and is now raising a cow, which is pregnant and a pig.
The visit continued with a woman who set up a small business thanks to the support of CCPCR.
| | |
| --- | --- |
| | " I used to go to Vietnam with my two children. The youngest one is 11 years old and the eldest is 14 years old. I stopped going to Vietnam because I was able to borrow money from the Saving Group and apply for pig farming. I also received a business grant of 800$ to construct a pen so that my pig won't catch a disease and also to buy products that I can sell to other v |
| | |
| --- | --- |
| "I stopped going to Vietnam because I have a job now. If we compare between the money I make when I sell lottery and the money I make when I sell products, it's better now. If I don't have enough money I will not go to Vietnam anymore but search for a job in Cambodia and do something else like selling eggs or growing vegetables. My eldest daughter goes to school everyday. I received a letter from the schoolteacher telling me about the high scores she got. My youngest daughter is in grade 4 and is the 3rd best student in her class." | |
We ended our tour by visiting a farmer who benefited from some agriculture trainings. He is currently growing a large variety of herbs and vegetables that he can sell to the market.
| | |
| --- | --- |
| | |
---
CCPCR activities in the communities have a common goal: empowering the poorest families in order to prevent them from trafficking their children. All these successful stories can illustrate the fact that when given the opportunity to increase their livelihood options, people strive to be successful. Many poor families from this village used to go to Vietnam with their children to make them beg or sell lottery. They don't anymore because they've been given another choice and they've been taught about the importance of children's rights. Sometimes, a little boost is all it takes to help people bloom. CCPCR's activities in the communities not only empower each family that it helps but also empower the community as a whole. Indeed, it teaches them a valuable lesson about the benefit of solidarity and makes every one of them an agent of change that can inspire the rest of the community.
---
On the 12th of August, CCPCR provided training on how to raise pigs in a pagoda located in Bohn village in Thnout commune. Twelve women and four men attended this training which lasted the whole day. They were offered some pouches, notebooks, pens and guidebooks on pig farming along with some refreshments and were given the opportunity to learn about how to construct a pig pen, how to select pigs, what food to use to feed them, and how to take care of their pigs with appropriate vaccines and good practices to prevent worms.
Poverty and ignorance are the root causes of the violation of children's rights in this area. Most of the people here are not educated. When struggling to make a living, the only option that comes to their mind is to migrate to Vietnam with their children. Pig farming is one of the livelihood opportunities that CCPCR is trying to improve. Even though some farmers already raise pigs with traditional techniques, they are not always successful. Their pigs usually die before they can sell them due to a lack of hygiene or a bad alimentation.
This training is one of the many preventive activities implemented by CCPCR in order to tackle children rights violations. Its aim is to provide the families with some valuable knowledge that they can use to increase their incomes so that they won't have to resort to illegal migration. As soon as they have received the training, many farmers change their attitudes and implement the new techniques that they've learned, reaching better results. They are also able to share this knowledge with other farmers thus improving the capacity building of their community. Last but not least, the participants, who do not have any pigs yet, can apply to benefit from the business grants provided by CCPCR's donors or borrow from the saving groups in their community. Two farmers from this area who benefited from former trainings are now successful at raising and selling pigs.
On the 4th of August, CCPCR visited the Community Learning Centre that it built in Chres commune in 2014, with the support of Caritas. This Community Learning Centre consists in a small open classroom with two boards and sixteen desks. It welcomes more than 30 children six days a week for pre-schooling and tutoring lessons.
Children from the Community Learning Centre showing their age with their fingers
Before the establishment of the Community Learning Centre, people from this area had little access to information and many poor families used to go to Vietnam with their children. The nearest school is a bit far from this area so children here usually don't go to school until they are 5 or 6 years old because they would need to be old enough to ride a bicycle. When they finally start studying, they are faced with many difficulties due to their lack of knowledge.
With the establishment of this Community Learning Centre, CCPCR's purpose is to empower the children and their families. From Monday to Saturday, children are given the opportunity to learn at their own pace. The children going to the public school can attend remedial class so that they won't get lost and be tempted to quit school while the youngest ones, who are not able to go to school by themselves yet, are provided with pre-schooling lessons. Apart from that, the Community Learning Centre is also a place where people from the community can come to learn, thanks to the materials from the small library of the center. They are also empowered by the ability to organize meetings with other NGOs or government officers to raise awareness about children's rights or receive trainings. Since the establishment of this Community Learning Centre, fewer families go to Vietnam and more children attend school.