Almost all of CCPCR's clients always blamed about their family situation (poverty), they had no job or sustainable career and they got much concern about their future.
They mostly were the victims​ of trafficking and migrant abuse who got rescued and repatriated from fishing boat of Thailand, working in Malaysia and Indonesia, Married with Chinese man to china and begging and selling lottery ticket in Vietnam.
When refer to get CCPCR's service, those survivors need to have their own business or sustainable career to improve their lives. Especially they need to get supported even physically, emotionally and financially to live their new life and avoided from re-exploitation.
With CCPCR's assessment, they need support differently depend on their location and economic condition in their community. Some needs to have small business as Goods and Grocery seller, some wishes to continue their task as a farmer, fisherman and other wants to get a skill training.
However, according to their need and fulfilling their commitment to live their new life in community, CCPCR the partner of USAID's CTIP, implemented through Winrock International, provided those survivors with small business at home or skill training.
One family in Krotie province, whom husband and son was survived of migrant abuse from Malaysia got supported on small business as cane juice seller and their son got skill training as barber.
Mrs. Na wife and mother of those survivors said, she is delighted and appreciated to get helped by CCPCR and Donor. She continued, without this supported they might had no chance to get small business as Today.
It is importantly and hopefully to get help, her family is so poor and have no capital to start up business or learn skill by their own, she said.
Since the early of 2018, CCPCR have helped hundred clients and still continue to support them to combat against human trafficking in Cambodia.
CCPCR wants to see them sustain their business to improve their live and pursue their commitment to be safe and step up forward by hard working, stop risky migrant to work abroad.

The rice bank which was formed by the Cambodian Center for the Protection of Children's Rights (CCPCR), a partner of Winrock International's Countering Trafficking in Persons Program (CTIP) throw granted support from USAID is full filled the rice to meet the need of people during shortage season.
This second rice bank was established in Russei Chhuor KangChhoeung village, Krol Kor Commune, Svay Chrum District in Svay Rieng Province, with effort collaborating of villagers, on April 26, 2018, CCPCR sponsored more than 13 tons of rice.
According to CCPCR's Livelihood Officer, Mr. San Sorn said in his experienced, clients complained about the roots cause of migration was the food shortages, so CCPCR initiated to establish the rice bank to meet their needs.
Mr. Kong Mong the village chief said that, people in his village often lack of food during rainy season about 3 to 4 months, because at that time, they have not harvested rice yet, and before they always borrowed money from MFI to buy rice.
"The rice bank is comforting the livelihood of people, so they are hopeful with rice supply from this rice barn, and the migration might be reduced with the source of rice to eat and to continue their work on rice field or farmland," he said.
Mrs. Un Phuoeng a villager stated that, she was glad with CCPCR's project to support her community with rice barn. And she continued that people in her village can borrow rice to support their food demanding.
"Now there will be no more rice loan with double payout, but the dealer still earn the same interest rate as well, She said. The poorer people are happy with the rice supported, and it is easier. It is not much difficult as to borrow rice with 50% interest rate from private sector as before, she continued."
Nowadays, there are 2 rice banks has already been formed successfully, and it has been important to help many clients in target commune in Svay Rieng province to improve their livelihood standard and stop bringing their children to beg and work abroad.
"I got better life and better education, CCPCR provided me a life changed" One beneficiary said.
Kunthy is a child victim of Domestic violence who got long term shelter support to stay and get education in CCPCR's Phnom Penh shelter. She is a child from one poor family in Svay Rieng province and also the case of suffered from domestic violence by her father. After her parents divorced, her mother was difficult to respond on education of 4 children, and Kunthy got into hard situcation, without good care and enough food to eat.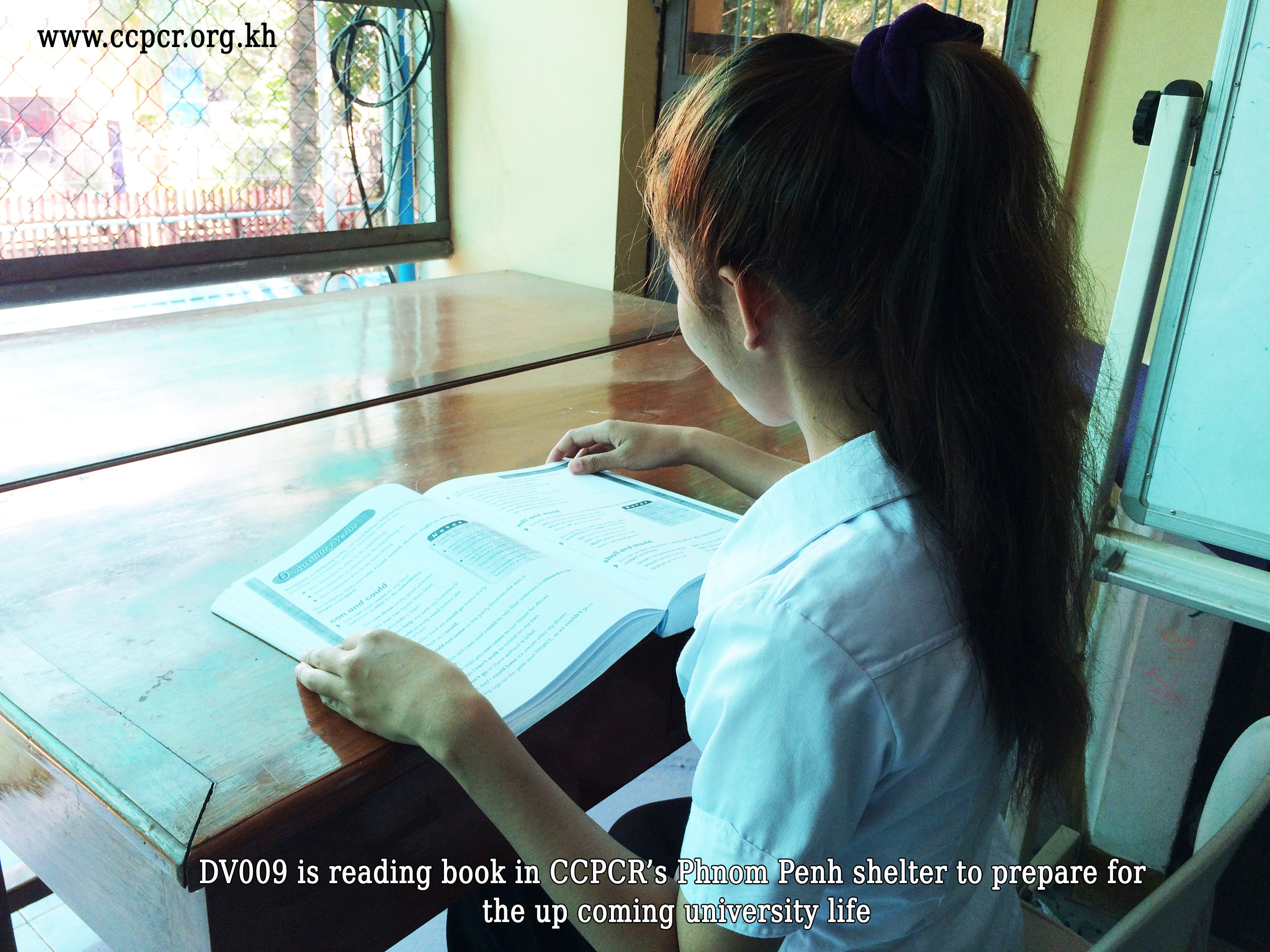 CCPCR provided Kunthy a chance to stay and study in shelter since she was grade 5, after conducted follow up and assessments many times about her family situation.
Kunthy said she has been provided support on many things as living in CCPCR's shelter, such as school materials, bicycle, books, pens, clothes and material for daily used and expend.
Every member of her family had no chance to study because of her family condiction (Parents broken up) and poverty. But Kunthy is the luckiest as she could get a high education.
She said " if there was no help from CCPCR, I would not get education, because my family was poor and my mother was a waitress whose income is too low to support my study."
CCPCR is her sweet home and second parents, she added. And she expressed her thankful to CCPCR for brought her a new and comfortable life with better education.
To eliminate all forms of violence against children and youth, including child labor, trafficking, sexual abuse and commercial sexual exploitation, CCPCR have saved more over 3150 children since 1994. And they were from poor families, child victims and vulnerable children.
For supporting them with long term service, study, learn skills with material supplying are the donations from local and international NGOs partners and generous. Kunthy recently graduated from high school, and she is looking for major to continue her studies in college. She is willing to become a bank employee, because she hopes she will be able to get a good job and high salary to help her family. Named to be changed.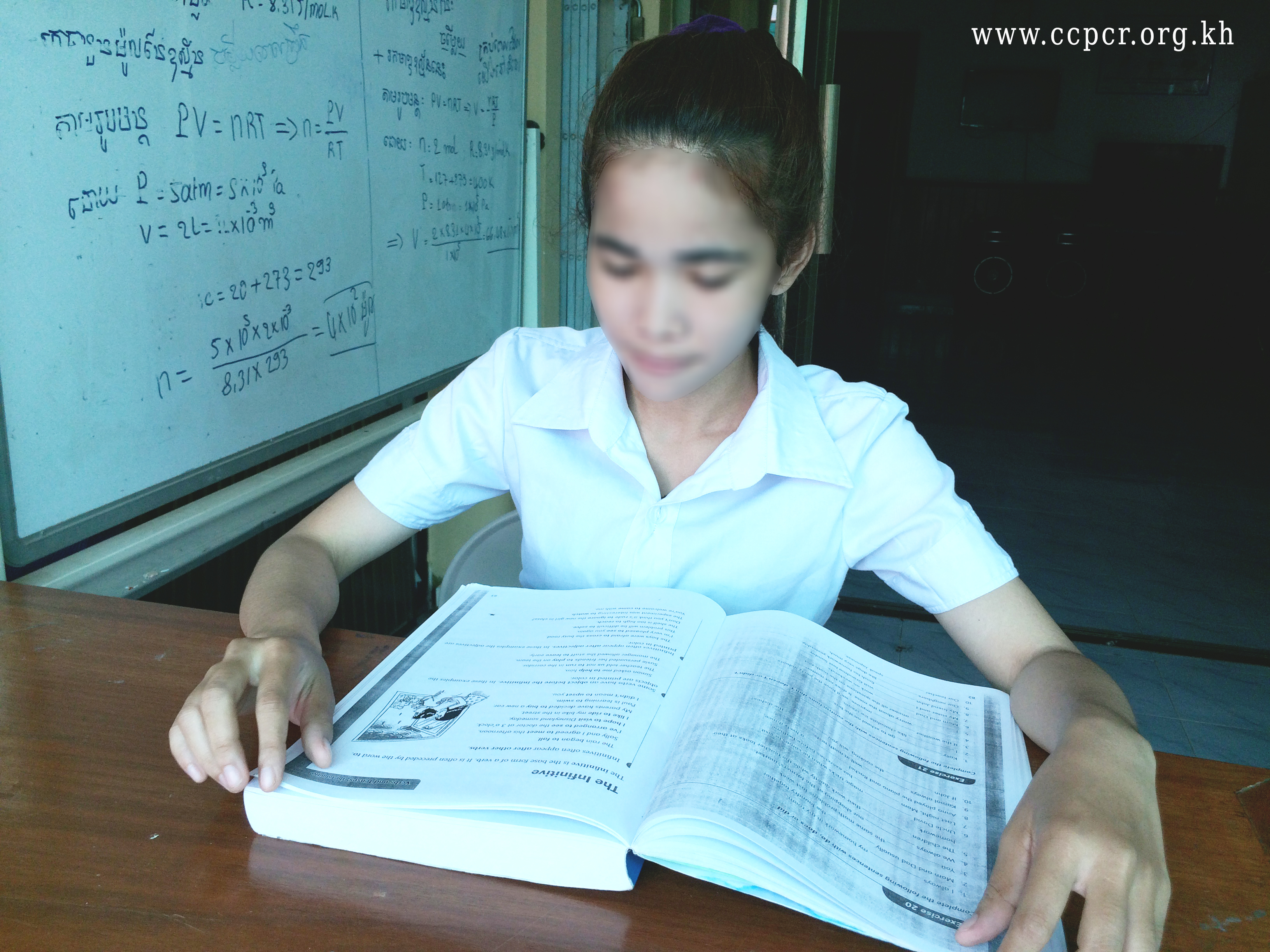 "The girl is always cry when she remember her mother. Her mother went abroad to earn money and now no reply." One elementary school teacher said.
Kampong Thom province is a typically countryside area in Cambodia. Huge number of families live in extreme poverty situation and ​migrant to Phnom Penh or other country to earn money. In such a situation, a lot of children are endangered in violation of children's rights such as child labor, domestic violence, no education, poor hygiene and human trafficking.
Even though many children experienced like that difficulty, they strongly combat against problems as they are members of Child Club. They understand Children's Rights, importance of education and other knowledge related to their living by getting educated with CCPCR and Teacher. One Child Club member could answer about the Children's Right, is the right to be protected, life, participation, and growing with education.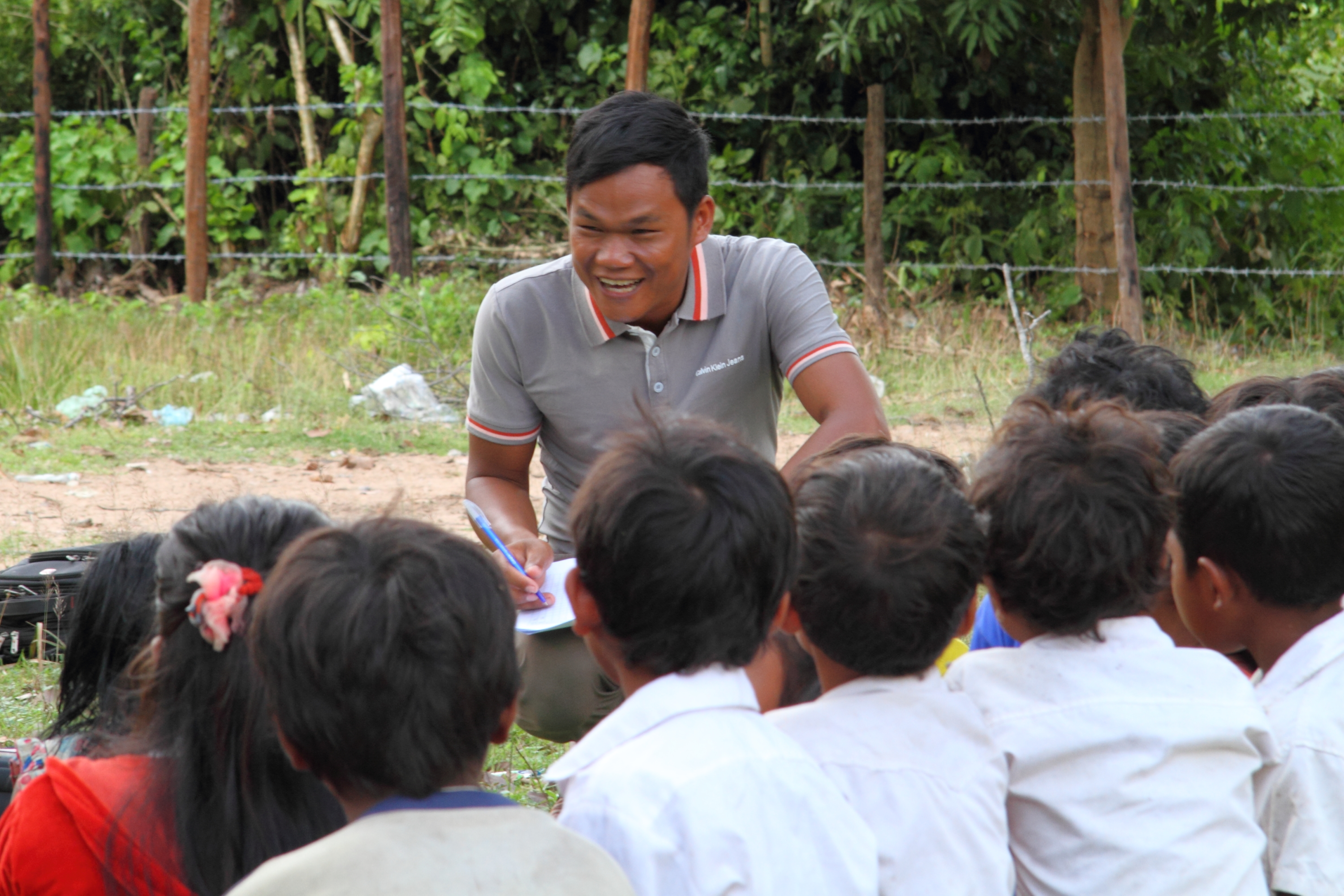 One other member said that her life has been changed. "Now I can share my opinion to my parents and they start to listen about it. If my parents ask me to quit school, I can refuse it, because I have my rights".
However, there are still difficulty for some children in village, they want to get education as other children, but they live under the pressure of family situation. "One child wants to join the Child Club, but his mother went to work in Malaysia and his father always logging in the forest every day. So he have to take care his little brother and it is impossible." One teacher said.
As just described, sometime poverty and migration is a big issue to solve violation of children's rights. Then CCPCR program supported their combate by setting up Parent group, saving group or conducting training workshop and so on.For adding to Child Club, children have a chance to study. "I want to be a doctor and I wish to contribute to my village. I would like to help ill person who are living in poverty." One Child Club member talked about his dream. Written and Photo by Yuya Yamakawa